0.2.88
WhatsApp Messenger for Windows is the version for PC with this operating system of the most popular messaging and chat application all over the world

The official desktop version of the popular messaging app
The instant messaging and chat application par excellence finally has a desktop client for Windows PCs. We're obviously talking about WhatsApp Messenger that has arrived on Microsoft's operating system as a standalone application.
The official WhatsApp desktop client for computers has finally arrived
This tool has arrived much later than the products of its rivals, such as Telegram, Facebook Messenger or LINE that launched their desktop apps some time ago. Now, after conquering Android and iPhone all over the world, and having launched a browser version called WhatsApp Web, they've finally gone for the desktop.
No longer will you have to turn to the web version of third-party apps.
Main features
You probably already know all there is to know about this app for chatting and sending messages to your contacts. Instead of having to resort to Firefox or Chrome to use your standard keyboard to get chatting you can now do so with a standalone program.
Here are some of its main functions:
Send messages to contacts.
Manage groups.
Send photos and videos located on your hard drive or taken with your webcam.
Configure your user settings.
Save conversations straight on your PC.
Record voice messages with your mic.
Functional and elegant user interface.
Using this application will increase your productivity, avoiding that you have to stop working on your computer if you receive a message. However, just like with the web version, you'll need to have your phone switched on and connected to work. It couldn't be absolutely perfect.
Requirements and additional information:
Requires Windows 8 or above and having WhatsApp on your phone.
Antony Peel at Google +
Images WhatsApp Messenger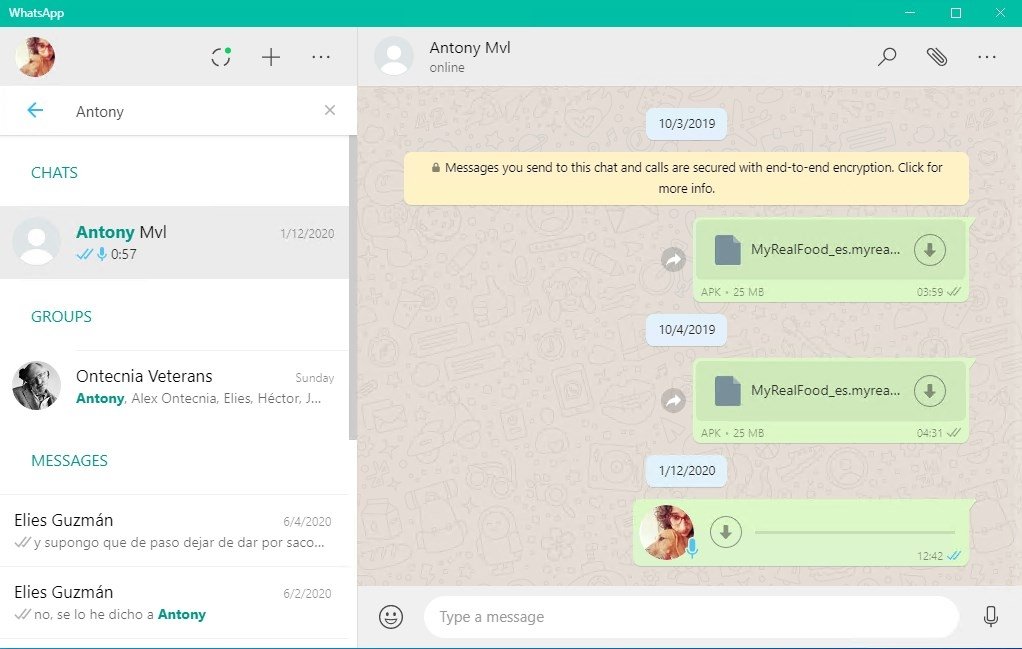 The number 1 instant messaging application

The chat and instant messaging app par excellence